Client: Directorate of Public Works
Contract: Avian Power Line Repair, Fort Carson
Contract Period: September 2014 – November 2014
Contract Value: $164,477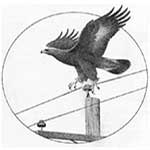 Description of Work: To perform the alteration of electrical poles in support of compliance with the Migratory Bird Treaty Act (MBTA) and the Bald and Golden Eagle Protection Act (BGEPA) for the needed "Avian Power Line Repairs on Fort Carson DPW14-083". Beckrich Construction completed this project by utilizing in-house resources and high voltage electrical line crews and equipment. The terrain crossing(s) and the limited access to several of the power poles required off road vehicles and "pole climbing" by highly skilled individuals. The scope of work included installing a variation of protective devices on energized power poles/lines to meet all standards and requirements.
"The standard for raptor protection, according to Suggested Practices for Avian Protection on Power Lines: The State of the Art in 2006 allows for 60 inches (150 cm) of horizontal separation between energized and/or grounded parts, and 48 inches (120 cm) of vertical spacing between energized and/or grounded parts. These separation standards accommodate for the wrist-to-wrist distance (31-42 inches) and head-to-foot distance (18-26") of an adult golden eagle (APLIC 2006). The 48-inch vertical separation will also accommodate for the height of a great blue heron. The Energized Poles that do not have adequate spacing of the conductors and/or grounded parts need insulation of the required hardware to minimize electrocution risk."