Expertise in Commercial Construction
Beckrich Construction offers unmatched integrity and experience in commercial construction. Our clients include both local Colorado Springs businesses and landmark companies such as The Broadmoor Hotel, Goodwill Industries, and CenturyLink.
Whether we're constructing ground up, turn-key facilities or tenant finishes and remodels, we customize projects exactly to our clients' needs. For example, our commercial construction capabilities include corporate offices, recreational facilities, hospitals, retail spaces, restaurants and schools.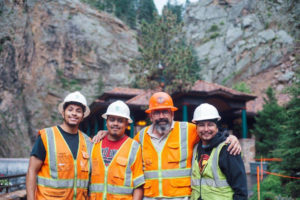 Additionally, we provide innovative renovation and re–purposing solutions, turning existing buildings into facilities that meet clients' needs. Our team is particularly skilled at creating multi–functional facilities.
For both turn–key projects and renovations, we take specialized measures for safety, style and acoustics. For instance, we include fire–proofing and safety plans for all buildings. Additionally, we offer expertise in sound control for spaces such as meeting rooms, auditoriums and entrance halls.
Finally, our quality control team offers full–service maintenance programs and complete upkeep manuals. Thus, we guarantee not only long–lasting infrastructure, but long–term maintenance plans as well.
Innovative, Cost–Effective Commercial Construction Solutions
Beckrich Construction delivers innovative commercial construction solutions with a staff that's both talented and versatile. We especially prioritize excellence and safety in construction with fair pricing and timely services.
In addition, Beckrich Construction offers unique abilities in analyzing plans from the constructability standpoint. Due to our commercial construction team's extensive experience, we offer value engineering and cost–saving measures without compromising quality.
Customized Projects and Communication
Quality communication is particularly important to the success of any project. That's why Beckrich values frequent one–on–one contact with clients, regardless of how big or small the project may be. Our project managers work individually with clients, fully explaining all options, costs and operations. Consequently, we ensure projects go according to our clients' vision, budget and schedule.
Beckrich's commercial construction team can be on–site at the same time as the project's architect, thus reducing errors and omissions prior to the bid date. As a result, our projects undergo fewer change orders and modifications, saving our clients valuable time and project costs.
Durability and Energy Efficiency with Style
In recent years, commercial construction has expanded together with Colorado's economy. In light of the thriving economy, Beckrich Construction dedicates itself to effective, long–lasting and sustainable development in Colorado and on the Front Range. Sustainable construction means durable and energy–efficient buildings, thus reducing costs in maintenance and energy bills.
In addition to function and sustainability, we also focus on style and aesthetics. As the face of your company, an attractive exterior and interior is especially important. In past projects we've demonstrated incredible versatility in style, such as historical renovation at The Broadmoor's Fish Camp as well as contemporary styles at The Play.