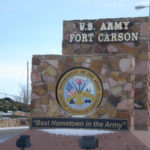 Client: Mass Service & Supply
Contract Name: Construct Fort Carson Gas Main Area 8000
Contract Period: October 2014 – October 2015
Contract Value: $639,108
Description of work: Providing full quality control management for the design build project to replace the gas main for the length of Nelson Boulevard from O'Connell Boulevard to Barkley Avenue with a total length of close to 4,000 feet.  A new building tie-in to Building 8142 will be provided as well.
Project carried out by Colorado Springs Beckrich Construction's quality control management team, offering general contractor services in Fort Carson and throughout the Front Range.