The Best Construction Jobs in Colorado Springs
At Beckrich Construction LLC, we recognize the importance of good construction jobs. Therefore, we understand excellence in construction begins with a talented, hard–working and highly–valued staff.
Beckrich Construction is grateful to have a staff of extremely talented and experienced employees. Since family is a cornerstone of our construction company, we value our employees as family. Our full–time staff includes construction jobs such as Contract Administrators, Project Managers, Estimators, Superintendents, Safety Managers and Quality Control Managers.
Because Beckrich works across a wide range of construction services, we cross train all Superintendents, Safety Managers & Quality Control Managers. Comprehensive training includes construction technology in addition to workplace safety. Thus, our team stays at the top of its game in all projects, in terms of both safety and quality work.
Positive Work Environment, Invaluable Experience
Construction workers of all levels will find Beckrich Construction a rewarding place to work, both professionally and personally. Indeed, Workplace safety and fostering a positive, team–oriented environment are our priorities. Most of all, we know the value of teamwork as well as the essential contribution of each worker.
Beckrich Construction prepares all employees with invaluable job training alongside experts of the contractor field. In addition, we provide our team with latest construction technology. Finally, our construction staff gains on–the–job experience in Colorado's most important construction projects on federal and commercial levels.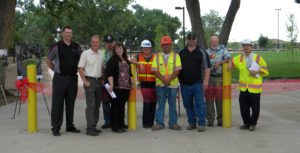 Applying for Construction Jobs with Beckrich
Colorado's steadily increasing population and economy means construction jobs are more important than ever. As a result, we are always on the lookout for talented individuals to match the demand for new construction. Join Beckrich Construction to be part of one of Colorado's most prominent general contractor teams.
Beckrich Construction is now accepting applications for the following positions:
Superintendent
Quality Control Manager
Send resumes to: 
Or use the form below