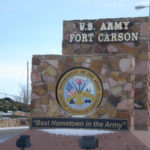 Client: Fort Carson DPW
Contract: Fort Carson Remodel Building 1853
Contract Period: August 2016 – October 2016
Contract Value: $23,721
Description of work: This project consisted of miscellaneous remodel items for the post's religious education facility. The scope of the remodel construction project included demolition of the site, electrical wiring of the facility, replacement of water cooler, carpet installation as well as wall and ceiling paint to improve both the function and the aesthetic of the religious education facility.
Remodel services carried out by Beckrich Construcion's Commercial Construction team, offering design build, renovation and remodelling throughout Colorado and the Front Range.