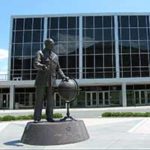 Client: Air Force Academy
Contract: Sustain and or repair HVAC at Arnold Hall
Contract Period: August 2017 – September 2018
Contract Amount: $2,108,000
Description of work: Furnish all labor, materials, equipment, supervision and other items necessary to sustain and repair HVAC units and to abate and properly dispose of ACM dust and debris in building 2302 – Arnold Hall. The existing HVAC systems in Arnold Hall have been in operation since the 1960s. This contract will upgrade the HVAC equipment and controls of nine air handling units and reheat coils.