Beckrich providing Mechanical Quality Control to hospital construction.
Beckrich Construction is providing Mechanical Quality Control Staff for the $700 million Fort Bliss Replacement Hospital. Local ABC Channel 7 gave a recent news report about the hospital's ongoing construction.
As Army project manager Lieutenant Colonel Christopher Kiss explains, the new hospital campus will feature six new buildings. The massive project includes the eight–story hospital with 135 beds, ten operating rooms and thirty specialty clinincs.
When the hospital construction is complete in spring of 2019, it will be a total of 1.1 million square feet– a significant upgrade from its original size of 700,000 square feet. Beckrich Construction's own Mechanical Quality Control Manager Don Johnson is onsite and doing a stellar job.
To power such an extensive campus, the hospital construction project includes a chilled water system for thermal energy storage. The 2.2 million gallon system will allow for lower energy use at night, providing significant energy savings.
As for the main entrance, Colonel Kiss describes a "breathtaking" combination of glazing and glass structures. "A key architectural focal point," says the Colonel, and "a really nice communal space."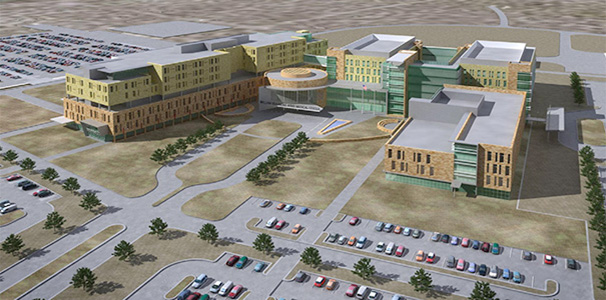 Situated across from the Butterfield Trail Golf Club, the hospital will offer patients a gorgeous view and access to green space, complementing its dedication to providing a completely modern facility with comprehensive medical attention.