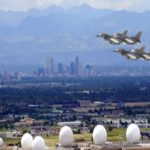 Client: Hensel Phelps, Omaha & Baltimore U.S. Army Corps of Engineers
Contract: Mountainview Project, Buckley Air Force Base
Contract Period: November 2012 – March 2015
Contract Value: $141,000,000
Description of Work: Beckrich Construction is providing mechanical quality control over the construction of approximately 200,000 square foot Operations Controlled Access Facility. This is an Omaha & Baltimore Corps of Engineers Bid Build Project being built by Hensel Phelps. This project includes the construction of the Mountainview Chiller Plant, and Power Plant to support the Operations Facility along with infrastructure upgrades, 650 new parking spaces within the fence line, relocation of existing utilities, and the demolition of existing site features. Construction is scheduled to be completed in early 2015.